"The most profound technologies are those that disappear. They weave themselves into the fabric of everyday life until they are indistinguishable from it." – Mark Weiser.
Technology is interwoven in our daily lives today, and we cannot spend a single day without using technology and innovative products. This marks the importance of technology in our lives and the success of any organization. This playbook quickly explains a CTO's roles, responsibilities, and skills.
What is a CTO?
A Chief Technology Officer (CTO) is the senior executive of the organization who holds the leadership role in shaping the technology strategy and direction. They are responsible for overseeing the development and implementation of technology initiatives that align with the business goals and objectives of the company. Also, a CTO monitors the short-term and long-term goals and utilizes the capital in making investments to reach its objectives.
Below are the core activities of a CTO in an organization:
Being a Leader: A CTO is the highest technology executive person and leads the engineering department.
Technological Innovation: The primary objective of the CTO is to leverage technology to drive innovation, competitiveness, and growth, making them a key figure in the organization's leadership team.
Provides Technology Sign-off: They are the person who signs off on which technology to use by the engineering team and how the technology direction should advance.
Cost-benefit Analysis: A CTO performs cost-benefit and return-on-investment (ROI) analyses and develops strategies to increase revenue.
CTO – Roles and Responsibilities
Let us look at the roles and responsibilities of a CTO in an organization.
CTO Roles
Though the roles and responsibilities of the CTO differ based on the companies, we can broadly classify the roles into the following groups.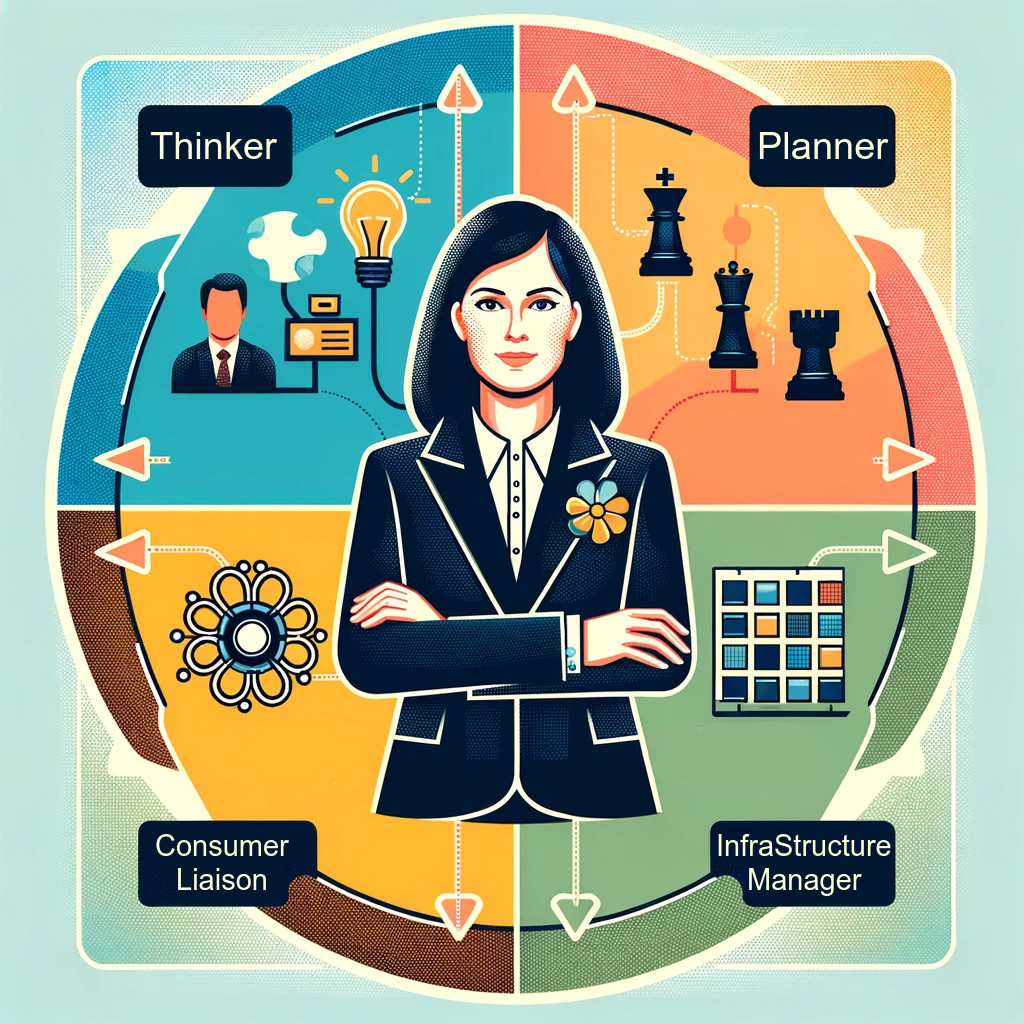 Strategic Planner
Here, a CTO envisions how the technology needs to be used while setting the company's technical strategy. This involves planning how to drive the business forward using the technology, identifying opportunities for innovation, and staying ahead of technological advancements.
The CTO anticipates future tech trends that could impact or benefit the company, ensuring the technology stack scales with growth and adapts to changing market demands. This foresight helps to make crucial informed decisions about investments in new technologies and platforms.
Infrastructure Manager
CTO holds the responsibility of overseeing and maintaining the structure and reliability of the company's IT and technology systems. This crucial role would oversee the development and upkeep of network infrastructure, information storage, and security protocols to ensure assurance for both future needs. And to establish a technological framework that will support day-to-day operations and on the other accommodate growth opportunities and change.
Disaster recovery planning is another focus of CTOs as they want to build a framework that accommodates data integrity and guarantees that technology resources are available. The CTO must strike a balance between the innovative and presumable by making decisions about adopting technology upgrading existing systems or retiring infrastructure — all while managing costs in line with the companys strategic growth plans.
Thinker
As a CTO, one must be an innovator and visionary, leveraging technology to spur business growth and sustainability. This requires thoughtful consideration of the interplay between tech and commerce and embracing novel ideas that can address complex problems.
CTO needs to think critically when evaluating new technologies – assessing their potential impact on existing models while devising innovative solutions. Additionally, this role entails committing to ongoing learning about technological advances, allowing organizations to take a proactive rather than reactive stance toward strategy development.
Consumer Liaison
CTO is the vital link between a company's technical capacities and customers' requirements and experiences. They fulfill an essential consumer liaison role. This requires a sharp comprehension of customer habits and preferences to convert complex technological features into benefits that will strike a chord with end-users.
Additionally, CTOs must engage with consumers for feedback gathering, recognize their issues, and use this understanding to inform product development & customization. Moreover – advocating on behalf of customers within one's own organization is crucial; making sure that clients have input when it comes to tech decisions while simultaneously prioritizing satisfaction in technology plans are all part of what makes up this position.
Responsibilities
As a CTO, one wears many hats with passion and commitment. They are apt to vary depending on company size and industry sector but typically include:
Setting Technology Vision: Establishing the company's technical vision and leading all aspects of technological development, including strategic direction and future growth.
Aligning Technology with Business Goals: Ensuring that the technological resources meet the company's short and long-term needs.
Leading the Technology Team: Directing the strategy for technology platforms, partnerships, and external relationships.
Product Development Oversight: Overseeing the development and delivery of technology products and services development and delivery.
Infrastructure Management: Ensuring the consistency and maintainability of existing applications by creating, maintaining, and enforcing standards/procedures for implementing technical solutions.
Research and Development (R&D): Researching to improve the technological assets of a company.
Risk Management: Identifying, comparing, selecting, and implementing technology solutions to manage the risk to an acceptable level.
Policy, Planning, and Governance: Developing and implementing policies and procedures that enforce compliance with legislation and deliver strategies aligned with the business.
Budgeting: Managing a technology budget to ensure resources are used efficiently and effectively.
Stakeholder Engagement: Communicating the company's technology strategy to investors, management, staff, partners, customers, and stakeholders.
Security Oversight: Ensuring the company's technology assets are protected from internal and external threats.
Disaster Recovery and Business Continuity: Planning for potential problems related to business technology and creating strategies for how the company will respond to recovery.
Talent Management: Attracting, retaining, and developing technology talent within the organization.
Vendor Management: Negotiating and managing contracts with technology and service providers.
Innovation: Encouraging and creating initiatives for innovation and excellence in technological advancements.
Customer Relations: Working with the customer base to understand and translate their needs into technology solutions.
CTO – Skills and Requirements
CTOs must possess many skills and competencies. Job descriptions for CTOs often enumerate these abilities, leaving no room for doubt about the expectations that must be met to excel in this role. Let us go through a few skillsets required for the CTO role.
Leadership
Confident CTOs have the acumen to direct multiple teams and galvanize them toward a unified objective. This enables improved productivity, but they must also be able to assign tasks judiciously and act as advisers when required. To truly excel in their role, successful CTOs need these skills to enable them to reach peak performance!
Decision-making
CTOs must assess various factors to ensure the company's objectives are met, from investing in new technologies and curbing expenses to altering vendors or delegating services. It is no easy task; it requires tremendous discernment for success.
Communication
Successful CTOs possess strong communication skills and an openness to feedback, allowing them to create a positive working environment. They serve as a beacon of guidance for IT employees and executives alike regarding technology strategy and direction. By listening carefully to all organization members, they can recognize potential opportunities for improvement on products or processes that will contribute to success.
Critical thinking
As a CTO thought leadership should be embraced whenever possible. With a specialized understanding of the technology landscape and target markets in their back pocket, they can use this insight to help shape corporate strategy for success.
Consumer-focused Strategy
As CTO, it is essential to comprehend the company's target demographic and initiate technical projects that bolster a rewarding customer experience. Considering their needs will ensure success in meeting objectives while keeping customers delighted!
Technology Planning
The rapid pace of technological advancement means businesses must stay ahead of the game to remain competitive. As CTO, it is up to you to review new technologies and determine which are best suited for achieving company objectives. It can be a challenging task, but with foresight and diligence, you can make sure that your organization stays at the cutting edge! Read here the CTO's checklist of QA.
Business fluency
CTOs are expected to excel in finance, business modeling, and project management to succeed. After all, it is their job to formulate strategies to steer the company forward; hence, an expansive knowledge of a corporation's requirements is paramount for them as they undertake this daunting task.
Organization
CTOs manage many departments, from network infrastructure to help desk support and security. Their job is to ensure that each department has the appropriate skill sets for success and collaboration.
Summing Up
CTOs are pivotal to the success of any organization, and their duties range from furthering technology progress and setting strategic plans to inspiring creativity. Most importantly, they ensure that technological initiatives align with business objectives and help their organizations remain competitive in an ever-evolving landscape; these experts play a vital role in propelling companies towards more incredible digital achievement – managing teams, overseeing budgets, and securing networks being just some of them!
Join the next wave of functional testing now.
A testRigor specialist will walk you through our platform with a custom demo.