Behavior-Driven Functional Testing
Find out how you can improve your performance as a startup.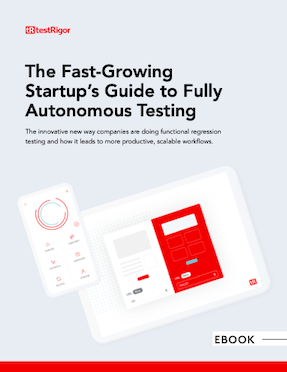 The Fast-Growing Startup's Guide to Fully Autonomous Testing
Startups are under immense pressure to scale, but fast growth adds risk to the development and testing cycle. Learn how adopting autonomous, AI-powered testing tools helps you ship better products faster and eliminate grunt work for your team.
Request Guide
Request a Demo
Ready to move your software testing into the next stage of scale and efficiency? After submitting this form, our team will reach out to you to schedule a demo where they can also answer your technical questions.
Thank you for your request. Please select date and time for a demo.
Something for everyone

Compliance Officers Engineering

Engineering

DevOps

QA teams
Request testRigor Guide
Your request was sent. You should receive the document shortly.