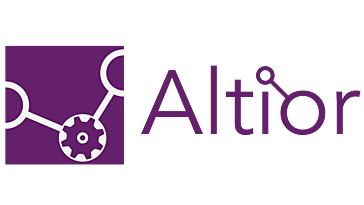 Website: https://altior.fr/fonctionnalites-erp-gpao/
Aujourd'hui, notre façon de consommer les informations en tant qu'individus a changé. Google, Linkedin, Amazon et Netflix ont révolutionné notre quotidien avec des actualités suggérées, des trajets optimisés, et une facilité redoutable pour trouver et partager l'information. Alors pourquoi les outils de gestion des entreprises (ERP) ne suivent-ils pas cette tendance? Il existe des problèmes tels que la complexité de mise en œuvre, les coûts cachés et les difficultés d'adaptation.
Les fondateurs d'Altior ont créé un produit clair, économique et expert pour répondre aux réels enjeux de votre métier, avec une prise en main simple et efficace. Altior est le premier logiciel ERP SAAS complet qui prône la simplicité, l'intuitivité, l'économie et la sécurité. Cet outil rendra votre quotidien en entreprise plus efficace grâce à une solution innovante pour numériser vos achats, ventes, stocks et même votre comptabilité.
Notre solution consiste à utiliser les nouvelles technologies du Web pour répondre aux besoins du marché des TPE/PME. Cette approche révolutionnaire du logiciel de gestion nous permet de vous proposer un système de gestion pour votre entreprise :
– Plus économique : un coût clair pour vous aider à planifier ;
– Plus simple : déploiement progressif selon vos priorités ;
– Plus facile à utiliser : une ergonomie conçue pour minimiser la formation ;
Devenez simplement plus efficace avec Altior.
For Altior implementation, you have several complex implementations that modify the system's default behavior to fit your processes. Therefore, as a part of rolling out and updating this implementation, you want to ensure that any previously made changes still function as expected.
Often you'd start with manual validation. Then, some assigned individuals would go through the existing functionality to ensure it works correctly.
Eventually, however, you'll realize that the validation volume is so high that it takes much time, hindering efforts to move forward efficiently. Also, humans are prone to making errors and sometimes missing important issues.
This is where you start to think about automation for your manual validation activity.
However, it is challenging for several reasons:
You need to hire a QA Engineer to build automation (these are hard to come by and very costly).
Once you start automating, you'll discover that as soon as Altior releases a new version, your test automation breaks because of subtle new changes in the release. This makes the majority of your tests fail, defeating the whole purpose of automation in the first place.
Meet testRigor. testRigor is a human emulator that understands English and executes tests from an end-user perspective. This way, you can achieve two goals at the same time:
Empower your existing employees who are now focused on manual testing to be able to build test automation regardless of their skill level.
testRigor automation won't break between releases because it just doesn't rely on details of implementation like all other systems do.
An example of a test could be:
If you'd like to try it out and see a demo of how it works on Altior, please fill out the form below.
Request a Demo
Ready to move your software testing into the next stage of scale and efficiency? After submitting this form, our team will reach out to you to schedule a demo where they can also answer your technical questions.
Thank you for your request. Please select date and time for a demo.