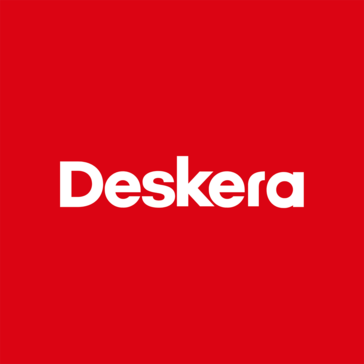 Website: https://www.deskera.com/all-in-one
Deskera All-In-One is the ultimate business software, providing integrated accounting, inventory, CRM, payroll, and employee management in a single package. Enjoy all the perks of an ERP without the fuss.
The user-friendly dashboard brings everything together, offering a real-time snapshot of your business. Here, you can access invoices, receivables, bank balances, and tax calculations while also monitoring your sales team's performance and revenue generation.
Additionally, there's room to track salary obligations, employee attendance, and claims/reimbursements. Deskera has it all front and center, complemented by an impressive mobile app that handles desktop features with ease.
Features include:
1. Use your phone to scan documents for recording bills, expenses, and purchase invoices
2. Faster bank reconciliation with over 10,000 bank connections
3. Multi-currency transactions in 110+ currencies, including forex gain/loss calculations
4. Customizable financial management through job accounting, project accounting, or cost-center accounting
5. Advanced inventory management, including serial numbers, batch numbers, bill of materials, multiple warehouses, stock transfers & adjustments, and more customizable financial and business reports for improved insights and decision-making
6. Comprehensive audit trail to monitor all accounting, financial, and transaction activities
7. Marketing automation, lead generation, sales, and after-sales management
8. Run email marketing campaigns for various purposes, including lead generation, nurturing, or customer engagement
9. Create dynamic contact list segmentation for personalized marketing outreach through configurable rules
10. Custom form creation to capture potential leads from multiple channels
11. Manage contact and lead mailing lists for nurturing or closing deals
12. Configure custom sales pipelines and monitor deals at different stages
13. Schedule activities, calls, or meetings related to deals and sync with your Microsoft 365 account
14. Establish an email helpdesk and online help site for top-notch customer support
15. Enable self-service portals for employees and managers to manage payroll, leaves, appraisals, and expense claims
16. Employees can use their phones to scan receipts, submit claims, apply for leaves, and view payslips
17. Set up multiple teams and departments for appraisals, leave approvals, and claim approvals
18. Run payrolls with automatic tax, contribution, and benefit calculations, catering to various employee groups and pay schedules
19. Store detailed records for each employee, encompassing personal information, payroll, time-offs, leaves, advances, and more
20. Customize pay components and calculate wages automatically based on pre- and post-tax deductions
21. Automatically post journals to accounting upon payroll finalization.
For the implementation of Deskera All-in-One, you will encounter several complex alterations that adjust the system's default behavior to better suit your processes. Therefore, when rolling out and updating this implementation, it's essential to ensure that any previously made modifications still function as expected.
Typically, the process begins with manual validation, whereby certain assigned individuals scrutinize existing functionality to ensure it operates correctly.
However, as the validation volume increases, you may find that the process becomes time-consuming, impeding progress and efficiency. Moreover, the human element introduces the risk of errors and the potential for significant issues to be overlooked.
This is where the need for an automated system to replace manual validation activities becomes apparent. Automation can significantly reduce the time and resources spent on validation, enhancing its accuracy and efficiency. Nonetheless, this process presents its own challenges:
First, there's the issue of constant updates and test maintenance. Deskera All-in-One is regularly updated with new versions, which could cause your test automation to fail due to subtle changes introduced in the new release. This could render a large portion of your tests obsolete, thus undermining the very purpose of test automation.
Second, there's the requirement to hire engineers capable of building automation. These highly-skilled professionals can be challenging to find and represent a substantial investment for your organization.
Fortunately, there's a solution: testRigor. testRigor is a revolutionary human emulator that understands English and conducts tests from the perspective of an end-user. This innovative approach to automation allows your organization to simultaneously achieve multiple key objectives:
Enable your existing employees to build test automation, regardless of their technical proficiency. As testRigor is an AI-driven, no-code solution, setting up the environment and building tests becomes a much more seamless and efficient process compared to traditional testing tools.
Ensure your automation system is robust enough to withstand the release of new versions. Unlike other systems, testRigor does not rely on the detailed specifics of the implementation. This results in unparalleled stability, saving countless hours each week.
Enhance visibility within the team, as anyone will be able to understand the tests and contribute if needed.
An example of a test could be:
If you're interested in trying out testRigor and viewing a demo of how it works on Deskera All-in-One, please fill out the form below.
Request a Demo
Ready to move your software testing into the next stage of scale and efficiency? After submitting this form, our team will reach out to you to schedule a demo where they can also answer your technical questions.
Thank you for your request. Please select date and time for a demo.